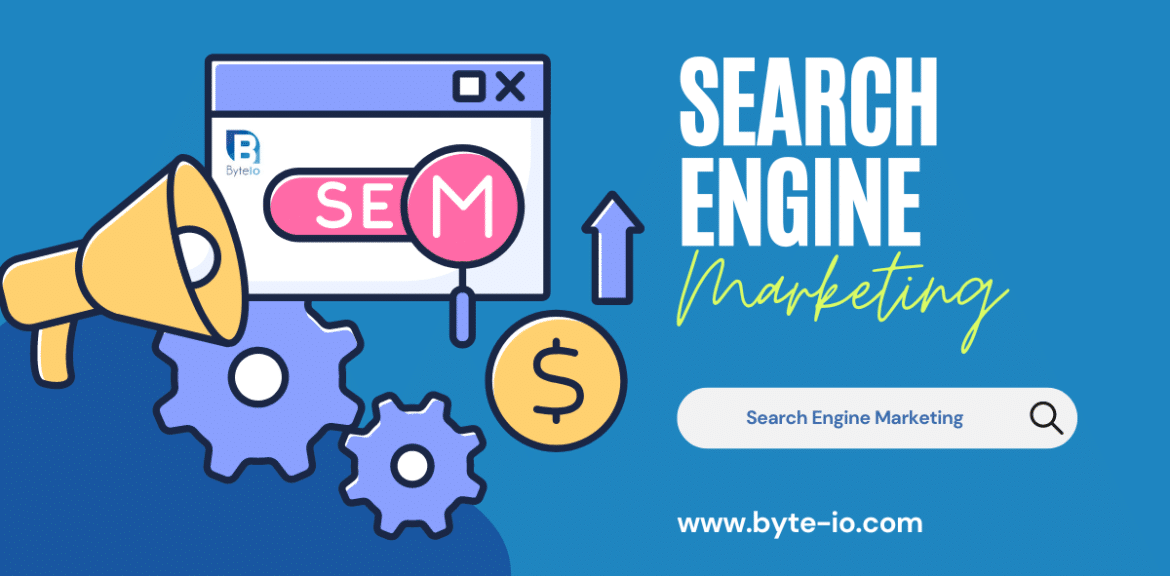 If you are a small business owner trying to increase your company's revenue. And, if you have a little social circle to promote your business, we know small businesses are tight on their budget. What if we told you that you could expand your business rapidly and affordably? Of Course, it is possible with Byteio's affordable SEM services. Continue reading to find out what SEM services are, how they may aid small companies in expanding in 2023, and how to get started. 
What is SEM?
The term "social engine marketing" (SEM) services" is frequently used to describe digital marketing techniques. It involves promoting your business through search engine advertising. Businesses can improve how customers find their product or service on a search engine like Bing or Google. However, you may increase your company's exposure by paying for advertising for your goods or services. Many online platforms provide these services in affordable packages. But, before you search more about SEM, let us tell you its importance.  
Why are SEM services essential?
No one can deny the influence of digital marketing on business development in the modern day.  However, it is not the case that only small business needs SEM services than big business. But, in reality, every business's ultimate goal is to increase its sales. Additionally, if you own a small business, Byteio Digital Solutions offers a variety of reasonably priced SEM packages from which to pick. We aim to leverage the power of SEM so that small businesses can compete with larger firms on the same grounds. Even if they have limited budgets, similarly, it helps larger firms to provide tough competition to their competitors and increase their sales. 
Benefits of SEM services for small businesses
Small businesses face stiff competition to compete in the digital world with big businesses. Similarly, driving traffic and generating sales with limited resources and budget is challenging. Here are some of the benefits that you get from Byteio Digital Solutions' SEM services:
Improve digital presence
If you opt for the right SEM strategy, no matter what stage you are at, your business presence will improve. However, our SEM strategies ensure potential customers find your product/ service online. You can achieve profound growth in your industry by enhancing your business's digital presence through advertisement. 
Increase website traffic
With SEM services, your website will get more traffic. More individuals will visit your website to learn more about your business or product as a result of this. It also transforms traffic into consumers. However, the Byteio SEM services team ensures that small businesses get their targeted traffic to their website. 
Cost-effective
Small business owners indeed want to make every penny count. However, small businesses can also achieve their marketing goals without spending much on them. With affordable Byteio SEM services, you can also complete your marketing goals. We offer a cost-effective way to reach your target audience with SEM compared to traditional advertising. 
Focused advertising
SEM services allow you to target your audience based on your business's demographics, location, and search intent. However, the digital experts at Byteio can customise your marketing messaging to reach your target audience. It is because their marketing efforts are more effective and efficient.
Better ROI
 Small businesses can achieve better ROI with Byteio Digital Solutions' affordable SEM services. This means that for every dollar invested in SEM, businesses can expect a better return on investment. However, our team makes SEM an attractive marketing strategy for small businesses.
What are some affordable SEM services for small businesses?
Depending on the level of skill and the quantity of labour required, SEM services can cost a lot of different amounts. Thankfully, small companies wishing to increase their internet presence through SEM have several accessible choices.
 Here are some affordable SEM services to consider from Byteio Digital Solutions. 
Google ads are the most affordable service available for small businesses. It's because Google is the most popular search engine and is used by everyone. Byteio develops adverts for your goods or services that will show up at the top of Google search results whenever people look for particular terms associated with your company.
Keyword Research and Analysis
Understanding the search phrases consumers use to locate businesses like yours allows you to optimise your website and advertising efforts for those keywords.
Advertising on social media sites such as Facebook and Instagram may be both productive and cost-efficient. Using these platforms, you may target certain demographics based on location, hobbies, and habits. You have the option of paying per click or impression or setting a daily budget.
Creating great content that is search engine-optimised will help you boost your online exposure. 
FAQs
How much will SEM services cost you?
Byteio packages range from silver and gold to platinum. However, the minimum package is $300 and changes, and you customize the package according to your business needs. 
How do small businesses benefit from our SEM services?
Small businesses can benefit from SEM services. Your brand may increase visibility in search results, draw visitors to your website, and eventually increase sales and income. 
Are SEM services secure?
Yes, our SEM services offer many levels of security. It includes two-factor authentication, privacy protection, and monitoring of user activities.